Shipping Policy& Track Your Order
* Please find the tracking information at the bottom of this page.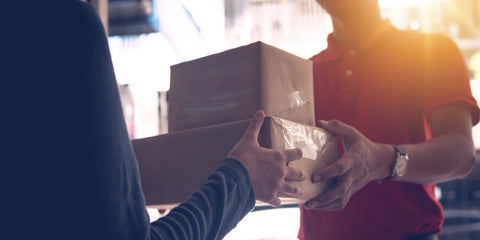 Processing:
We will advise you if an item in your order is unavailable for immediate shipment, and we will notify you when the item is available for shipping. Therefore, the order may be split into different shipments, at no extra charge, and items ordered together may not be shipped out on the same day. All personalized jewelry orders will require a delay of A week for shipment. This is due to a required production time of 3 to 6 days. We will send you pictures of the finished jewelry products by email for your review before we ship them to you.
Shipping Status:
Simply log into your account and click "My Orders" to view your order status. Please submit a ticket to us within 6 months of the shipment date, if the package does not arrive on time. Our representative will contact you within 24 hours.
Note: We will not accept overdue requests. Click here to learn more about tracking orders.
Shipping Rates & Times:
We offer delivery within the continental U.S. and Canada. We are unable to ship to other international addresses.
Orders over $30 will receive free shipping within the contiguous United States.
Any promotional shipping offers are valid only for the contiguous United States and exclude Canada, Hawaii, Alaska, and Puerto Rico.
US region:
- Free shipping for all orders shipped within the United States.
International Shipping Only:
- Free shipping internationally for orders above $300.00
- International Orders valued from $200-$500 will incur a $9.00 shipping charge; International Orders below $200 will incur a $19.00 shipping charge.
Non-Shippable Addresses:
We do not ship to P.O. Boxes or APO/FPO addresses currently. Please provide us with a detailed and valid physical shipping address at the time of placing your orders.
Estimated Shipping Times:
Please take note that all shipping times are estimated and may take longer during peak seasons or due to incorrect shipping addresses.
International Shipping Fees and Taxes:
Sifity®️-Jewel is not responsible for outside government and border-related fees. The customer is responsible to pay any tariff, duties, taxes or broker related fees. 
Sifity®️-Jewel does not determine or govern these fees. For further information on these policies, please visit the Government's website. We do not pay for import taxes, customs duties, and/or fees imposed by the destination country. 
If a signature hasn't captured (During Covid-19) caused a lost in shipping, Sifity®️-Jewel will issue the full refund in GC. 
Shipping Stateside:
Items labeled for Instant shipment will ship either directly from Amazon Fulfillment Center or from our factory, and they will arrive within 5 business days of being shipped.
International Shipping:


We use world-famous express delivery for shipments to the US, CANADA, MEXICO, Japan and EUROPE.
We may use other carriers for shipments to countries besides the US, Canada, Mexico, Japan and Europe. Shipping times vary depending on which carrier we use.
Commitment:
We are committed to provide you the best shipping options, no matter where you live. Every day, we deliver to hundreds of customers across the world, meanwhile ensuring that we provide the very highest levels of responsiveness to you at all times.
Verification:
We will send you a confirmation email once your order is verified. After verification, in principle, the orders will not be cancelled during this period, considering handling process already start, but we will try our best to communicate with you via email or phone to find a good solution.
Processing:
All orders are processed within 2-3 business days. Orders will not be shipped or delivered on weekends or holidays.
If we are experiencing a high volume of orders, shipments may be delayed by a few days. Please allow additional days in transit for delivery. If there will be a significant delay in shipment of your order, we will contact you via email or telephone timely.
Shipping:
Shipping time refers to the time it takes for items to be shipped from our warehouse to the destination. Shipping charges for your order will be also calculated and displayed at checkout.
Shipment Confirmation & Delivery:
You will receive a Shipment Confirmation email containing tracking numbers once your order has shipped. The tracking number will be active within 24 hours.
Shipping Times:
| | | |
| --- | --- | --- |
|   | Standard Shipment Plan | Expedited Shipment Plan |
| USD🇺🇸 |   | Free, 8-12 Workdays |
| CAD🇨🇦 |   | Free, 8-12 Workdays |
| GBP🇬🇧 |   | Free, 8-10 Workdays |
| JAP🇯🇵 |   | Free, 6-8 Workdays |
| AUD🇦🇺 |   | Free, 7-10 Workdays |
| HKD🇭🇰 |   | Free, 3-5 Workdays |
| NZD🇳🇿 | $5.00, 12-15 Workdays | $18.00, 8-12 Workdays |
| MXN🇲🇽 | $5.00, 17-30 Workdays | $18.00, 8-12 Workdays |